Symptoms of Bulging Veins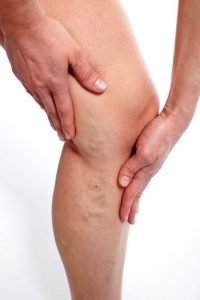 Bulging veins are a common symptom of several conditions such as pregnancy, thrombophlebitis, and old age. They often come in the form of varicose veins and spider veins and usually appear in the legs. These veins can be swollen, distorted, dilated, and discolored.
Causes
Healthy veins have valves that keep blood from flowing down as it is pumped up through the leg. Bulging veins occur when these valves malfunction and allow blood to flow backward and pool into the vein. They can be caused by a number of conditions that affect the vein directly or not. For example, bulging veins are often caused by swollen veins or thrombophlebitis, but they can also be caused by more general states of being such as pregnancy, old age, obesity, or lack of movement.
Other causes of bulging veins could include blood clots, abdominal tumors, low body fat, or genetics.
Symptoms
There are an array of symptoms that can let you know you might have bulging veins. Bulging veins in the legs can cause:
Skin darkening
Itchy rash
Swelling
Achy or throbbing legs
Crampy or heavy legs
Bulging veins don't always affect only your legs, though. They can also go along with symptoms of other conditions that impact different areas of the body. You may experience symptoms of diabetes, for example, with skin ulcers near the feet, damage to blood vessels, or wounds that heal slowly. Other symptoms of pregnancy, obesity, or thrombophlebitis could also indicate bulging veins.
Sometimes, bulging veins can be a sign of a more serious medical condition. Seek immediate medical attention if you experience sores or ulcers on your ankles, thickening of the skin around your calf and ankle, warmth and redness in the leg, bleeding from an injury to your vein, or a pulling feeling in your leg. These could be symptoms of life-threatening conditions such as blood clots, tumors, or infections.
Treatment
In the early stages, bulging veins may be treated with compression socks and exercise. This may also help future bulging veins from forming. More serious cases of bulging veins should be treated by a doctor. Common treatments include different therapies, medicines, and procedures, and are often minimally invasive.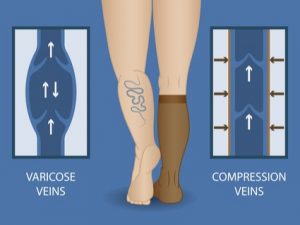 Complications
Once you've determined you do have bulging veins, it's important to treat them properly. Leaving bulging veins untreated increases your risk of potential complications such as skin ulcerations, blood clots, and increased swelling and pain.
Prevention
Reduce your chances of forming bulging veins by keeping your body healthy. Exercise regularly and monitor your weight. This will ensure proper circulation and help you avoid putting too much pressure on your legs. Avoid crossing your legs or wearing high heels for long periods of time. This will help your blood flow through your veins properly. Maintain a healthy, low-salt diet rich in fiber. Though not all bulging veins can be avoided, following these tips will reduce your chances and keep you healthy.
*Author is not a doctor and does not claim to offer medical advice.  Any and all information in the is article should not be treated as such.  Please consult your physician for further information.