What Varicose Veins Are and How They Can Affect You
You've undoubtedly seen varicose veins either on your own legs or someone else's. Varicose veins are veins that are enlarged and have become gnarled or twisted. You typically see them in legs, but they can form in many different parts of the body.  Your leg muscles pump the veins in order to make them return blood to your heart and help defy gravity, so to speak.
When these veins become varicose, the valves in the veins don't work properly and the blood can travel the wrong direction. This promotes the varicose veins you see on people's legs. By not being able to get that blood back to the heart, and flowing backward and the veins enlarge even more.
These types of veins generally occur in the superficial veins of legs due to the high pressure exerted while standing. Aside from being an aesthetic issue, varicose veins can be quite painful. Severe varicosity can lead to leg swelling, skin thickening, and other health problems.
Signs and Symptoms of Varicose Veins
Among the many indications you or someone you know may have varicose veins, a number of them may not include pain at the site of the veins. However, common complaints from people with varicose veins are aching or heavy-feeling legs, swelling in the ankles, red, dry itchy areas of skin, certain cramping similar to that of post-workout soreness, restless legs, ropey veins, spider veins just to name a few. If you're suffering one or more of these symptoms and fear you may have varicose veins, get checked out just to be safe.
Treatment Options to Remove Varicose Veins
Depending on the severity of your varicose veins, there are a few types of treatment available for treatment. Closurefast-Targeted endovenous therapy is a minimally invasive treatment that uses radiofrequency to provide an even and consistent heat that allows the vein to contract the collagen within the vein walls. This causes them to seal and collapse, and eventually close. Once closed, your body directs the blood to reroute itself to healthy veins. There are alternatives to this method though they require more invasive surgeries and leave much worse bruising.
The Vein Company
At the Vein Company, we focus on treating patients that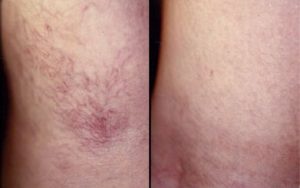 suffer from varicose veins, spider veins, and various other vein diseases. You can always expect the highest quality and personalized care around every turn. We explain all of your conditions, diagnoses, and options in a language you can understand, not through medical jargon.
Each patient is assessed through a battery of tests and examinations so that we may diagnose and treat each and every underlying condition that contributes to your symptoms.
The highly trained and educated physicians will then develop a custom-designed treatment plan specifically for you to ensure the best possible outcome. Our goal is to go above and beyond to deliver the best results for each individual.